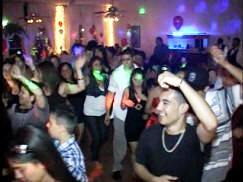 We Specialize in:
Christmas (Xmas) Parties
Holiday Parties
New Year's Eve Parties
Company Outings
Awards Banquets
Dinner Banquets
and lots more...
So you assumed party-planning wasn't a part of your job description.
Well. By some means you don't recall agreeing to the role of "event production specialist" whenever you signed on. It must have been around in that very same paragraph that explained those other duties you never knew you had until the day-after-tomorrow deadline was announced. Never fear. We'll ensure you get through it, and we'll make a hero out of you along the way.
Are you considering sipping Dom Perignon, or chugging Budweiser?
What's your company tradition? Are the co-workers more prone to swoon over Toni Braxton or Tony Bennett? Will table dancing become the order of the evening, or might it be sophisticated mingling? Our goal is to figure out the thing that makes your group tick, so that we can assist you custom-design a celebration that completely fits your style. If the outgoing, lively performer will do the job, we can easily provide. But when a sophisticated, low-key performer is much more suitable, we can easily deliver that, also. Crazy or sophisticated - it's your call.
Musical salad.
Johnny Mathis. Johnny Cash. Johnny Rotten. Every one of them had smash hit records, and each and every one - generally - drawn a really diverse number of audience. The probability is great that you'll possess a pretty contemporary mixture of individuals at the celebration, and that's why we've got over 50,000 songs within our all-digital music collection. We've got Cranberries, Cream, Red Hot Chili Peppers, and Meatloaf. A significant musical buffet. Range is definitely an absolute key to keeping folks on the dance floor, so it's completely okay to ask for that the The Beach Boys and The Beastie Boys be played in exactly the same night. And our disc jockeys will artfully mix the various genres into a logical, danceable sequence. Jimmy Durante or Jimi Hendrix. David Bowie or David Cassidy. Just let us know.