Celebrate the times of your life with ease.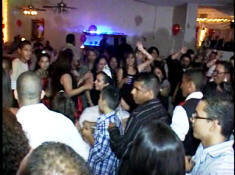 Anniversaries
Birthdays
Christenings
Class Reunions
Graduations
Holiday Events
Holidays
New Year's Eve
and more!!!
Special times require special attention, and that's what we'll give you as you prepare for your celebration. We know how busy you are just planning your day, let alone planning a function that needs to keep all of your friends entertained for a whole evening.
The most well organized parties are all mixed up.
Not since biblical times have Miracles, Temptations, and Earth Wind & Fire all been experienced in the same night. But we can pull that off in the first half-hour alone; never underestimate the power of a good DJ. The secret of a dazzling party is musical variety, and that's why we have more than 50,000 tunes in our all-digital collection. Beatles, Turtles, Eagles and Monkees may all come together harmoniously at your soiree. You might even decide to have 10,000 Maniacs liven up the joint. Our disc jockeys will artfully blend various genres into a logical, danceable sequence. From Van Morrison to Van Halen, Chubby Checker to Fatboy Slim, our diverse assortment of toe-tappers will get your dance floor admirably scuffed. Your friends will thank you. And mean it.